Diamond drill bit for ceramic-metal bond D6 L75
Diamond drill bit for ceramic-metal bond D6 L75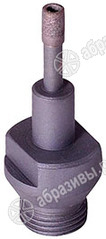 Description:
Diamond drill bit D6 L75 and metal-ceramic bond (shank - 1/2" GAS) for drilling glass (about 2000-3000./min)
the Purpose: drilling holes in glass, stone. Thread 1/2" for drilling on automatic or semi-automatic machines.
the
the
working layer: sintered.
the
diameter: 3 to 120 mm and more.
the
type: tubular, u-shaped, monolithic, etc.
the
shank: under the Chuck (collet clamp), Euro thread, thread M14, etc.
Other goods and services from «North-West Centre of Diamond Tools»
Manufacturer:

0 NO NAME

Russia

Manufacturer:

0 NO NAME

Russia

Manufacturer:

0 NO NAME

Russia
Do you like the article? Tell your friends and colleagues