Abrasive grinding circle 180*6*22 HERMAN STANDART steel
Abrasive grinding circle 180*6*22 HERMAN STANDART steel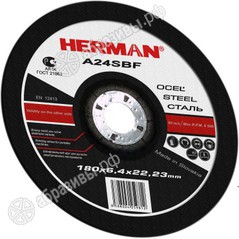 Seller:

HERMAN abrasive tools
Manufacturer:
HERMAN, Germany

справочник
Description:
Abrasive grinding circle 180*6*22 HERMAN STANDARD steel with good strength and performance.
Description:
-Use primarily for cleaning steel materials of profile steel.
-the Average hardness of the circle
-According to the standard FEPA round at the boundaries between coarse and medium grit corundum grains.
-Designed for angle grinders.
Other goods and services from «HERMAN abrasive tools»
Manufacturer:

HERMAN

Germany

Manufacturer:

HERMAN

Germany

Manufacturer:

HERMAN

Germany

Manufacturer:

HERMAN

Germany

Manufacturer:

HERMAN

Germany
Do you like the article? Tell your friends and colleagues