About the project "Abrasives - information portal"
About the project "Abrasives - information portal"
Internet portal Abrasives is a b2b and b2c resource on the subject of abrasives, grinding, surface treatment.
the
Our mission: to help to understand the diversity of goods and services abrasive industry.
Our multimedia section "Reference" is aimed at coverage of relevant educational information on the conditions of production of abrasive materials and tools.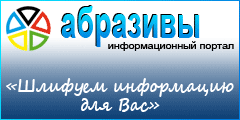 the Core of the portal are three sections "Brands" - producers of goods "Company" - suppliers of goods and services. "Reference" - mnogotonnaya thematic information. Using the services of the portal the user can find the nearest point of sale of products of the desired brand. The active support of the users will have a section "Reference", which contains all background information on the products presented in the portal.
the Project is designed for experienced and novice polzovateley abrasive tools and equipment.
We hope that Your experience, knowledge and desire to share them with users have protula. Send Your articles, notes and share experience with the participants of the portal "Abrasives". We are ready to help You with this and tell about You.